RaillLille2017 will held at the congress center "Lille Grand Palais" in the center of Lille city (1 Boulevard des Cités Unies, 59000 Lille, France).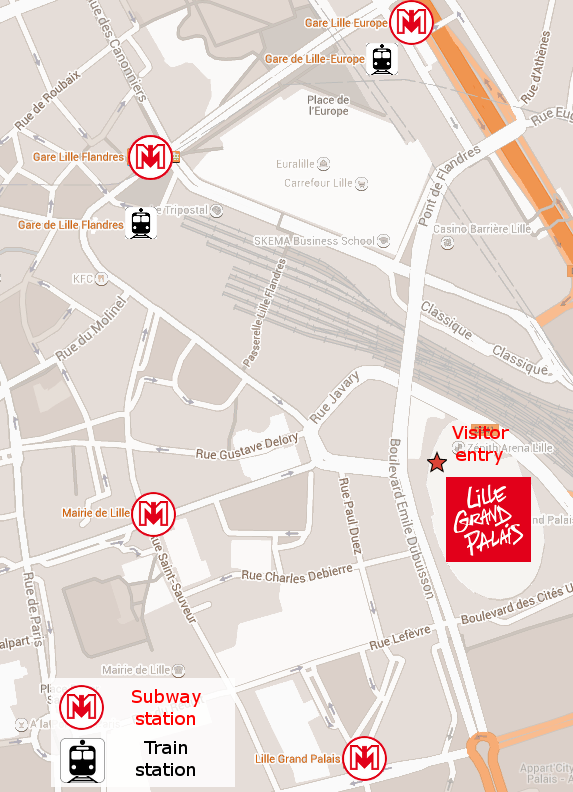 Lille Grand Palais is served by 2 trains stations (10 minutes by feet), 3 subway stations (Lille Grand Palais, Gare Lille Flandres and Mairie de Lille) and buses.
Accessibility
Two train stations are located in the city center. The train station 'Lille-Europe" serves European destinations.
The two train stations are served by subway, tram and bus lines.
The Lille-Lesquin airport is located 10 km from Lille city centre and a shuttle service is available.
You can also come via the Charles De Gaulle Paris airport (with direct trains from this airport to Lille-Europe station).
Hotels
Please refer to classic hotel reservation website or see the list below (standard fares).

Downtown

Hotel 4* (with time and distance from the conference center)

Novotel Lille Centre Gares (8 min 650 m)
49 Rue de Tournai

59777 LILLE
+33 3.20.74.70.70
h5240@accor.com
Novotel Suites Lille Europe (17 min 1,2 km)
Boulevard de Turin
59777 LILLE
+33 3.20.74.70.70
h5240@accor.com
Mercure Lille Centre Grand Place (20 min 1,5 km)
2 Boulevard Carnot

59800 LILLE

+33 3.20.14.71 .47
h0802@accor.com
Novotel Lille Centre Grand Place (23 min 1,8 km)
116 Rue de l'Hôpital Militaire
59800 LILLE

+33 3.28.38.53.53
h0918@accor.com
Mercure Lille Centre Vieux Lille (27 min 2km)
27 Rue des Tours

59000 LILLE Cedex
+33 3.59.57.47.00
h9735-dm@accor.com



Hôtel 3*

(with time and distance from the conference center)



Ibis Lille Centre Grand Palais (5 min 400m)

1 et 3 Rue des Moulins de Garance
59000 LILLE
+33 3.20.11.37.90

h9309@accor.com
Ibis Lille Centre Gares
 (9 min 650m)
29 Avenue Charles Saint Venant
59800 LILLE

+33 3.28.36.30.40

h0901-sb@accor.com
Ibis Styles Lille Centre Gare Beffroi (10 min 800m)
172 Rue de Paris

59800 LILLE

+33 3.20.30.00.54
h1384-bo@accor.com

Ibis Styles Lille Centre Grand Place (15 min 1,1 km)
28 Rue Anatole France

59800 LILLE

+33 3.20.55.25.11
h9420@accor.com
Ibis Lille Centre Grand Place (16 min 1,3km)
21 Rue Pelletier

59800 LILLE

+33 3.20.06.21.95
h0902@accor.com


Hôtel 2*

(with time and distance from the conference center)
Ibis budget Lille Centre (20 min 1,6km)
10 Rue de Courtrai
59000 LILLE
+33 8.92.68.30.78
h5208-re@accor.com
Outside of Lille

Hôtel 4*

(with time and transport informations from/to the conference center)
Mercure Lille Roubaix Grand Hôtel (25 min, Subway line 2 and station "Roubaix Grand Place")
22 Avenue Jean Baptiste Lebas
59100 ROUBAIX

03 28 52.13.98
h7951@accor.com

Novotel Lille Aéroport (30 - 40 min, Bus lines 11, L1 and Z2 and station "Moulin de Lesquin", Free shuttle
 for the airport 2km)
55 Route de Douais
59810 LESQUIN

03 20.20.62.53.53
h0427-it@accor.com

Mercure Lille Métropole (30 - 50 min, Tramway station "Chateau rouge")
157 Avenue de la Marne
59700 MARCQ EN BAROEUL
03.28.33.12.12
h1099-re@accor.com

Mercure Lille Aéroport (40 - 50 min, Bus lines Z2 and Z3 and station "Jean Jaurès", Free shuttle
 for the airport 2,5km)
110 Rue Jean Jaurès
59810 LESQUIN
03.20.87.46.46
h1098-fo@accor.com



Hôtel 3*

(with time and transport informations from/to the conference center)
Ibis Lille Lomme Centre (15 min, Subway line 2 and station " Mitterie")
576 Avenue de Dunkerque
59160 LOMME LEZ LILLE
03.20.93.04.05
h7238@accor.com

Ibis Lille Villeneuve d'Ascq Grand Stade (25 - 30 min, Subway line 1 and station "Hotel de Ville- Villeneuve d'Ascq")
Rue du Vercors

59650 VILLENEUVE D'ASCQ
03.20.91.81.50
h0614@accor.com
Ibis Styles Lille Marcq en Baroeul (25 - 30 min, Tramway station Cerisaie)
340 Avenue de la Marne

59700 MARCQ EN BAROEUL
03.20.89.23.23
h9084@accor.com

Ibis Lille Roubaix Centre (35 min, Subway line 2 and station " Eurotéléport")
Boulevard du Général Leclerc
59200 TOURCOING
03.20.24.84.58
h01017@accor.com

Ibis Lille Tourcoing Centre (35 min, Subway line 2 and station "Tourcoing Sébastopol")
Rue Carnot
59200 TOURCOING
03.20.24.84.58
h0642@accor.com

Ibis Styles Lille Aéroport (Near the airport 1km, no public transport, taxi required)
Impasse Jean Jaurès
59810 LESQUIN

03.28.54.24.24
h2855-dm@accor.com